It is crucial for a business to accept different payment types to make it easy for customers. As a business owner, you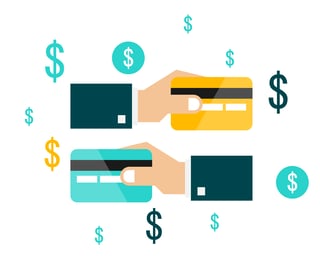 probably have been approached by a merchant services company at one point in time, but you may not even know what merchant services is. In the simplest form, the term merchant services is used to describe payment processing, or services that enable a business to accept electronic payments.
Common Merchant Services Solutions
Credit and debit cards: Every merchant services company offers credit and debit card processing, and businesses need to be taking advantage of those services. This allows your business to accept credit or debit cards, usually on a small counter top machine called a credit card terminal.

eCheck and ACH: It is common for merchant services companies to offer check acceptance solutions. Accepting eChecks is another way to help your customer pay your business by providing them with additional payment options.
Online Payments: As online payments become more popular, many merchant service companies are offering easy ways to accept payments online such as gateways, shopping carts, and simple integrations.
Additional Services
Merchant Services isn't just about credit and debit card processing. Many companies offer additional services on top of traditional credit and debit card processing.
Gift Cards and Rewards Programs: Keep your customers coming back. Gift card and rewards programs are a proven way for businesses to increase retail traffic, average ticket sales, and margins to improve the cost and profitability of transactions. This is a great value-add to help build a repeat customer base. International Bancard has gift and reward programs that will benefit your business and keep your customers coming back.


POS: POS systems do more than accept payments. They help you manage your business. Often, you can track and manage inventory, text and email customers their receipts, create custom product menus and personalize your customers' experience.


EMV: By accepting EMV-enabled payments, you can drastically reduce risk and increase security for you and your customers. If you adopt EMV technology and devices, you are protecting your business from potential liability and fraud, while protecting your customers' data. Expert merchant services companies can help you with all things related to EMV and provide you with the best EMV technology to ensure you are accepting payments the safest way possible.


Surcharging: Surcharging allows businesses to charge a small service fee to customers who pay with credit cards, which supplements the cost of acceptance. Any customer who pays with alternative forms of payments, such as cash or gift cards, will not have to pay the service fee.


Equipment Leasing: Terminal leasing program makes it possible for merchants to get the terminal that fits their business needs. Merchant services companies that provide cost effective leasing programs help your business accept credit cards quickly and efficiently. You can pay for your credit card terminal with a monthly lease payment – allowing you to go about running your business without worrying about paying upfront for the equipment.


Business Funding: Fund your next steps! Some merchant services companies can help your business receive loans, cash advances, or credit lines to help your business prosper.


Security: Protect your business and your customers. A good merchant services company makes it a priority to educate you on how to reduce counterfeit and fraud through acceptance and best practices, including:
By accepting payments through a merchant services company, you have the ability to get so much more than just credit and debit card acceptance. Depending on the company you work with, you can get the tools to help manage, protect, and grow your business.
Merchant services provider, International Bancard, specializes in helping businesses grow through payment acceptance solutions. International Bancard provides modern equipment, simple-to-implement additional services, and superior tools to make sure your business is accepting credit cards the most effective way possible.
Additionally, International Bancard has 24/7 client care and technical support, as well as an in-house integration team, to help your business make the transition to accepting payments seamless.
If you want to work with International Bancard, a full-service merchant services company, all you have to do is schedule a call with one of our Certified Payment Professionals.