---

Deciding on which payments to accept at your business can be difficult, but deciding HOW your business should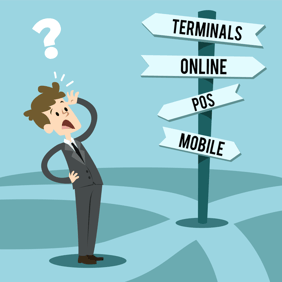 accept credit cards can be overwhelming. With so many payment acceptance options out there, it's hard for a business to navigate the products and actually begin processing payments. What you think may be the best way to accept credit cards, may not be the most beneficial to your business.
International Bancard is going to make it easy for you. Let's walk through the different ways to accept credit cards and find the solution that will help your business.
Before we answer how you should be accepting credit cards, let's answer why you should be accepting credit cards first. American's preferred payment method is definitely plastic. 78% of Americans prefer to pay with either a credit or debit card. While only 9% prefer to pay with cash. Which means, your business needs to be accepting credit cards.

There are many ways that a business can accept credit cards. It all depends on what your business goals are and how payment acceptance fits into those goals.

The most popular payment acceptance solutions include:
Credit Card Terminals

A credit card terminal is a machine that allows your business to accept credit cards. You type in the amount that is due, and your customer pays with their credit or debit card. It's that simple.

Credit card terminals are very-straight forward and makes it very easy to accept credit cards. There is no complicated software or instructions and if you don't have a lot of room, credit card terminals are great.
Some other reasons why you should accept payments on a credit card terminal:
User-friendly: no complicated menus or options - just accept the payment and you're onto the next customer
Extremely secure: credit card terminals come with many options to accept payments safely
Cost-effective: Credit card terminals are relatively inexpensive, especially for accepting EMV payments
Supports any connection: WiFi, 3G, phone lines, etc.
Easy setup: If you want to accept payments on a credit card terminal, you could be up and running in less than one day
If you are looking for a simple way to accept payments, credit card terminals may be the best option for your business!
Point-of-Sale Systems

Point-of-Sale - or POS - systems are a bit more complex than credit card terminals, and that is because they do way more than accept credit cards. They are an all-in-one management system for your business. They can track your inventory, email or text receipts to your customers, on top of accepting credit cards from them.

Often POS systems are cloud-based, making it easy to access real-time business data from any internet connected device.
A majority of POS systems have features such as:
Accept credit cards, cash, and checks
EMV-certified
Loyalty programs
Extensive reports and analytics
Customizable options
Personalized receipts
Common industries that use POS systems include:
Retail
Hospitality
Restaurant
Salon
Healthcare
Warehouse/distribution
Entertainment
If your business needs to easily track inventory and is looking for a value added management solution, POS systems may be a great way for your business to accept credit cards!
Mobile Payments

Mobile payments are when you accept credit cards using a mobile device - like a cell phone or tablet. Mobile payments are typically used by businesses who are on-the-go and need the flexibility to accept payments from virtually anywhere they go. When you accept credit cards on a mobile device, you need to make sure your mobile device has an internet connection or cell phone service.
Food trucks, delivery services, and vendors at trade shows or farmers markets are good examples of businesses who benefit from accepting payments on a mobile device.
However, there is a growth in mobile payments in other industries such as retail and restaurant. Accepting payments on a mobile device brings the payment solution directly to your customers.
If your business is on-the-go or needs to accept payments in-person, accepting payments on a mobile device may be a good fit for you.
Online Payments

Online payments are transactions that are exchanged electronically using digital networks or the internet. There are multiple ways to accept online payments.
Online payments are becoming more and more common. Online retail sales in the U.S. are expected to grow from $396.7 billion in 2016 to over $684 billion in 2020.
Many businesses are jumping on this trend and giving their customers the option to purchase their goods and services online. By giving your customers the option to make purchases in person and online creates an online presence and opens your revenue stream.
Simple integrations with little-to-no developer experience makes accepting payments online a breeze. You can decide how your business wants to accept payments online.
You can pick from online payment acceptance features such as:
Shopping Cart
Hosted Pay
APIs
Virtual terminal
Pay buttons
Pay by text or email
eInvoicing
If you want to accept payments online, there is an easy solution for your business!
EMV

It doesn't matter which solution you use to accept credit cards, you should be accepting EMV payments. Accepting EMV payments protects your business against fraud and fines.
There are EMV solutions for every type of payment acceptance solution no matter if you are accepting payments in-person or online. When you accept EMV payments, you are not only protecting your business, you are also protecting your customers and their data. Without your customer, you wouldn't have anyone to sell to!
---
---
---
See? That wasn't so bad. And do you know what makes selecting a payment acceptance solution even easier? International Bancard! We specialize in helping businesses find the right solution for accepting credit cards. Even if you aren't sure how you want to accept payments, we will get to know your business and uncover what payment acceptance solution is best!
Our Certified Payment Professionals will work with you to get you up and running in no time! No matter how you want to accept payments, International Bancard will be there every step of the way!
Schedule your call today to get started!
---