When you run and operate your own business, there is so much that you need to worry about and it can all be very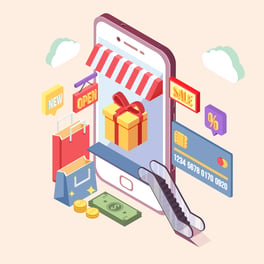 overwhelming.
To add another layer of things, you also need to think about how you accept payments from your customers – credit cards, debit cards, cash, checks, mobile payments, and now digital gift cards? Where does it end?
A digital gift card program is far easier than you would think. By implementing a digital gift card program, your business can immediately begin to see the benefits:
Cost effective – By offering and accepting digital gift cards, your business can cut back on the costs of a traditional gift card program. With digital gift cards, you don't have to pay for the inventory of plastic cards – everything is done online.


Easy-to-use – Digital gift cards are much easier to use for not only for your business, but for your customers too. With our digital gift card programs, you don't even need additional equipment or integrations.

Digital gift cards are also much easier for your customers. They can purchase them online, use them right away, or gift them via email or text messages. Recipients don't even need to print the gift cards, they can redeem them right from their mobile device. Your customers don't ever have to go out of their way or plan an additional trip to purchase a gift card again!


Additional promotional opportunities – When participating in a digital gift card program, your business can get access to additional promotional opportunities that can be easily managed. You can implement programs such as birthday clubs or rewards programs that keep your customers coming back! Everyone loves a good deal.


Build brand awareness – Through your digital gift card and promotional programs, you can build your brand awareness and keep your customers coming back. If they love your promotions, they are more likely to come back to your store and spend more money. They are also more likely to purchase additional gift cards to give to their friends – spreading the word about how awesome your business is.


Make shopping easy – These days, customers want their shopping experiences to be easy and seamless. Digital gift cards make shopping so easy. Your customers and purchase and redeem gift cards with the click of a button. They can purchase gift cards through your website or even your Facebook page. When you make things easy for your customers, they will be more likely to come back to your store again and again.

Luckily for you, International Bancard has the easiest digital gift card program in the industry. Together, we will have your business accepting digital gift cards in as little as 10 minutes. With our technology and painless integration, you can begin growing your business in no time.

All you have to do is schedule a call with one of our Certified Payment Professionals to get started.