When it comes to managing a business, there is a lot that you need to keep track of.
That's why businesses love using Clover POS systems. Clover is not only a great payment acceptance option, but also helps businesses operate and manage day-to-day business functions.
Clover POS systems can help businesses keep track of inventory and staffing, give customers more payment options, accept more payments quicker, and receive valuable reports on customer data and trends.
Clover has a number of different options for all types of businesses. Learn which Clover POS system will best fit your business: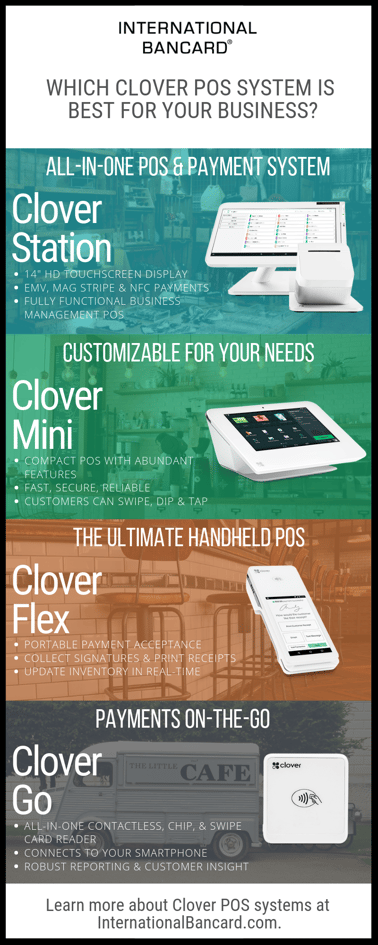 Clover Station - The Clover Station is an all-in-one countertop POS system. With it's large 14" touchscreen display and robust features, you can get more done to help you streamline your business.
More payment options: Accept EMV chip cards, mag stripe, and contactless payments like Apple Pay and Google Pay.
Keep your business secure: The Clover Station had end-to-end encryption and data tokenization to help protect your business from data breaches and fraud.
A POS that looks great: This slick POS has an HD display and swivel feature for easy customer eSignatures and engagement.
Fast payments: The Station is built from the inside out to ensure you can accept payments faster and manage your business quicker.
Employee management: Manage your employees and their access to the Clover Station. With fingerprint login and customizable access, your employees will love using the Clover Station.
Clover Flex - Don't let the size fool you! The Clover Flex is one of the most versatile payment acceptance options available. The Flex allows you to accept payments anywhere- at the counter, at events, or as your customers wait in line, while still offering the payment options and security they need.

Manage inventory: Clover Flex features a built-in camera and barcode scanner, so you and your employees can scan items and track your inventory in real-time.
Scales with your business: With its business management applications, the Flex allows you to easily grow your business.
Never miss a sale: In the rare occurrence your internet and WiFi are down, the Clover Flex still allows you to accept payments. The Flex will run the payments once you're back up!
Reporting: Better understand your business and your customers. With in-depth reporting, you can better manage your time, employees and business.
On-the-spot payments:

The Clover Flex has 3G and WiFi access to make sure you're always connected. You can collect signatures and print receipts right from the device.
Clover Mini - The Clover Mini is the perfect tool for a business that wants more than a basic credit card terminal, but may not have space or capacity for a large countertop POS system. The Clover Mini is easy-to-use but still has the business enhancing features you want.
Perfect for new and small businesses: You will receive the Clover Mini ready to tap, swipe or dip. With its easy setup, you'll be able to start accepting payments
Leave room for what matters: The Clover Mini is lightweight and compact. It is perfect for any workspace. You don't have to settle for a large POS system that takes up much-needed space.
Compact doesn't mean tiny: The large, bright 7" touchscreen makes it easy to do your job and for your customers to see what they are doing.
Fully customizable: Add the POS components that best fit your business, leave out the ones you don't want. Some of the applications include accounting, inventory tracking, marketing, and gift cards.
Customers win big: With the Mini, your customers get the same great features they would expect from a payment acceptance solution. They will receive on the spot receipts, and the ease of mind knowing their data is protected.
Clover Go - The Clover Go is the payment acceptance tool for the business that goes with you everywhere. This mobile solution connects to a smartphone via Bluetooth and helps your business accept swipe, chip cards, and NFC payments on-the-go.
Mix-and-match: The Clover Go also works with other Clover devices. Open an order from any other Clover POS and finish the sale on the Clover Go.
Small and mighty: Even though this is a mobile device, you will still receive the payment options and reporting activity that is crucial to your business.
Create presets for easy checkout: On the Clover Go, you have the ability to set custom percentage tip amounts or multiple tax rates for different items.
Receipts their way: Easily and quickly email or text your customers their receipts. With Clover Go, you don't have to worry about receipt paper ever again.
Employee Customizations: Not all employees need access to all of the features on your Clover Go. You can easily create and manage employee permissions!
All Clover systems are compatible with each other, so you can mix and match your products if you want to expand your payment acceptance suite.
Lucky for you and your business, International Bancard now offers Clover POS systems. With International Bancard's support and expertise combined with Clover products, your business can run streamline its payments and operations.
Contact one of International Bancard's Certified Payment Professionals to learn how your business can benefit from a Clover POS.