It is important to understand, embrace, and even encourage near-field communication (aka NFC) payments. NFC is a technology allowing cardholders the ability to make payments with their credit card without needing to touch the payment device. Most credit card devices support NFC and have NFC technology enabled by default.
A cardholder can initiate an NFC payment in one of two ways:
NFC-enabled chip card

An increasing number of card Issuing banks are beginning to provision credit cards equipped with NFC capabilities, meaning instead of inserting the card or swiping the card, cardholders can make a payment by holding/tapping their credit card over the payment device

Apple Pay and Android Pay

NFC payments can also be made using an iPhone or Android phone by storing credit cards in Apple Pay or Android Pay and holding/tapping their phone over the payment device
All International Bancard's countertop payment options offer NFC payments as an option, and there are not any additional steps involved in the payment process. To take an NFC payment, you simply go through the transaction flow as you would any other time, but rather than the customer swiping or inserting their card, they would simply hold their phone over the terminal, usually near the top of the display screen or wherever the NFC icon is located.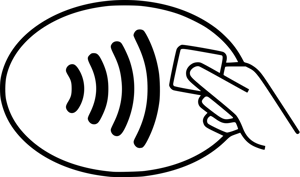 The terminal will process the transaction within a few seconds and the terminal will display the result as usual.
Did you know this method of payment is just as secure, if not more secure than any of the other ways you are used to taking payments from your customers?
The following terminals are equipped with NFC technology:
Dejavoo
Ingenico
iPP320
iSMP4
iSC Series
Lane Series
Link Series
Verifone
Clover
Go
Flex
Mini
Station 2018 w/ P550 Printer
Station Pro
First Data
eProcessing Network
ePN Mobile Premier Verify SCN
Poynt
Poynt Smart Terminal
Poynt P5


Telephone Order Payments
If your restaurant is being forced to provide carry-out orders only, you may want to begin taking credit card payments over the phone to ensure the customer has a valid credit card to cover the cost of the order. There a couple of ways to accomplish these card-not-present transactions:
Keyed into a payment device
Keyed into a virtual terminal
Note: Card-not-present transactions are considered by the card brands as less-secure payments than card-present transactions and will qualify at a higher interchange rate.
To initiate a keyed payment using your payment device, follow these steps:
A virtual terminal is a web-based application allowing merchants to input credit card details and amount totals into a checkout form to initiate a telephone order payment. International Bancard provides merchants with a virtual terminal through their merchant portal – Merchant Passport.
In both scenarios, you'll be prompted to input the cardholder's CV code and zip code. The CV code is the three-digit code on the back of most cards and the four-digit code on the front of American Express cards.
For additional payments related information or consultation during this volatile time, please contact International Bancard at product@intlbancard.com to learn more.