FOR IMMEDIATE RELEASE

DETROIT, APRIL 27, 2017 – International Bancard, an industry-leading payment acceptance solutions provider is hiring for open positions due to an increase in activity correlated to the company's recent relocation of their headquarters to downtown Detroit.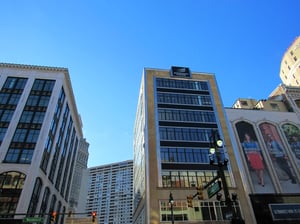 International Bancard operates entirely in-house, from technical support to sales and, therefore, the positions that the company is looking to fill consist of all varieties and specialties. Some of the positions International Bancard is hiring for include sales, marketing, finance, client support, project management, and information technology.

"Recently International Bancard has been experiencing rapid growth and in conjunction, we want to continue that growth internally," said International Bancard President, Gary Rutledge. "Having the opportunity to add to our already hard-working staff will only continue to open doors, expand our brand, and increase our capabilities for our clients and partners."

International Bancard moved their headquarters from the suburbs to the newly renamed International Bancard Building in downtown Detroit during the fall of 2016. The company wanted to be in the heart of Detroit's thriving economic community as well as be a part of the city's resurgence and growth.

International Bancard was named one of Metropolitan Detroit's Best and Brightest Companies to Work For® as well as Best in Brightest in Wellness in 2016 and offers company-wide Fitbit activity trackers, in-house massages and yoga sessions, flex time to encourage work-life balance, healthy food options, and continued education, among other perks.

For additional information on International Bancard's open positions and to apply, visit www.InternationalBancardCareers.com.

About International Bancard:
Whether our clients serve 50 customers a week or 100,000 fans every night, International Bancard helps businesses grow by providing payment acceptance solutions, including credit and debit card processing, ACH, and gift cards. As a nationally recognized industry leader, businesses rely on our market insight, data security knowledge and client care to deliver exceptional service to more customers in more locations.

To learn more about International Bancard visit www.InternationalBancard.com.

# # #
Contact:
Kerry Wezner
800.827.4880 x 7014
kwezner@intlbancard.com