DETROIT, Sept. 22, 2017 – For the second year in a row, International Bancard, Detroit-based payment acceptance solutions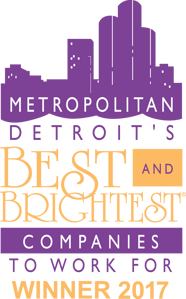 provider, has been named one of the Metropolitan Detroit's Best and Brightest Companies to Work For® in 2017. The winning companies will be honored by the Michigan Business and Professional Association (MBPA) during an awards ceremony at the Detroit Marriott in the Renaissance Center on Friday, September 22, 2017.

The Best and Brightest Companies to Work For® is a program of the MBPA that provides the business community with the opportunity to gain recognition, showcase their best practices and demonstrate why they are an ideal place for employees to work. This national program celebrates those companies that are making better business, creating richer lives and building a stronger community as a whole. It is presented annually in several markets including Atlanta, Boston, Chicago, Dallas, Detroit, Houston, Milwaukee, San Diego, San Francisco Bay Area, and Nationally.

International Bancard has also been named one of 2017's Best and Brightest in Wellness, and offers flex time to encourage work-life balance, healthy food options, and continued education, among other perks.

"On behalf of the entire organization, we are very excited to be recognized for the second consecutive year as one of Detroit's Best and Brightest Companies to Work For®," said International Bancard's President, Gary Rutledge. "Everyone at International Bancard works extremely hard, and I am ecstatic that this team is getting recognized for their efforts."

The National Association for Business Resources (NABR), who establishes the winners, connects, educates, and empowers businesses across the country through focused programs, groundbreaking studies, and field-leading support.

Founded in 2001, International Bancard has built a reputation for exceptional 24/7 client service as well as keeping clients up-to-date with the latest credit card processing technology.

The complete list of award winners for the 101 Best and Brightest Companies to Work For® in 2017 can be found here.

About International Bancard:
Whether our clients serve 50 customers a week or host 100,000 fans every night, we provide payment acceptance solutions that help their businesses grow, while giving their customers a great experience. As a nationally recognized leader in the payment acceptance industry, organizations depend on International Bancard's market insight, payment security knowledge, client care, and business relationships to help guide them toward sustainable growth. For more information visit InternationalBancard.com.

About MBPA:
The Michigan Business and Professional Association boasts a statewide sphere of influence that no other organization of its kind can claim, leveraging a depth of programs and community initiatives that positively impact more than 150,000 businesses. Visit them online at www.michbusiness.org.

About NABR:
The NABR, established in 1996, fosters a collaborative environment in which companies and leaders learn best practices, trends, and vital information benefiting the company and its employees well beyond the finances. Through the Best and Brightest programs, the National Association for Business Resources provides specialized business services, education and resources for businesses throughout the United States.
# # #
Contact:
Kerry Wezner
800.827.4880x7014
kwezner@intlbancard.com