Understanding the fees associated with accepting credit cards can seem confusing and overwhelming.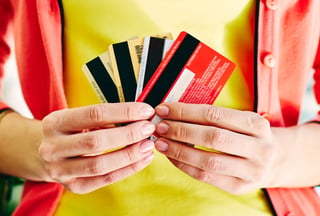 However, they are pretty straightforward once you break them down. As a nationally recognized industry leader in credit card processing, International Bancard wants to help you learn about credit card processing fees. Not all credit card processing fees are negotiable, which is why it is important to understand what each fee is and how they work.
There are a few parties involved in between the cardholder and the merchant when it comes to the cost of accepting credit cards. These include:
Issuing Banks

: The banks that issue credit cards to consumers and businesses

The Card Associations

: These are the companies that make credit cards, comprised of Visa, Mastercard, American Express, and Discover

Payment Processors

: These are institutions, like International Bancard, that act as the intermediary between merchants and the credit card associations.
Now that you know each of the parties involved, it's time to look at the fees you will be expected to pay. Every time you accept a credit card, you are incurring three costs: Interchange, Assessments, and Processing Fees.
Interchange: Interchange fees are assessed by the issuing banks, while the Card Associations determine the Interchange fees that are paid to the banks. Interchange rates are primarily based on industry, card type, and transaction type. These fees are published rates and can be found on the Card Association websites. No payment processor can give you a lower rate or better deal on this fee. This is the same fee regardless of your payment processor.
Assessments: Assessments are fees paid to the Card Associations. Like Interchange fees, Assessment fees are the same for all payment processors. International Bancard has simplified these fees and assessments for your benefit, which can be found at http://www.internationalbancard.com/fees.pdf.
Processing Fees: Processing fees are what the payment processor charges the merchant in order to perform the authorization, settlement, and reporting of transactions. Additional processor services include merchant account underwriting, client care, technical support, and risk monitoring.
Remember, as a small business, you do not have control over Interchange - those are fees determined by Visa, MasterCard, Discover, and American Express. However, you do have control over the processing fees that your merchant provider charges you. For example: You have control over the authorization/transaction fees, annual fee, regulatory fee, and data breach fee - all of which are shown by our sample statement below: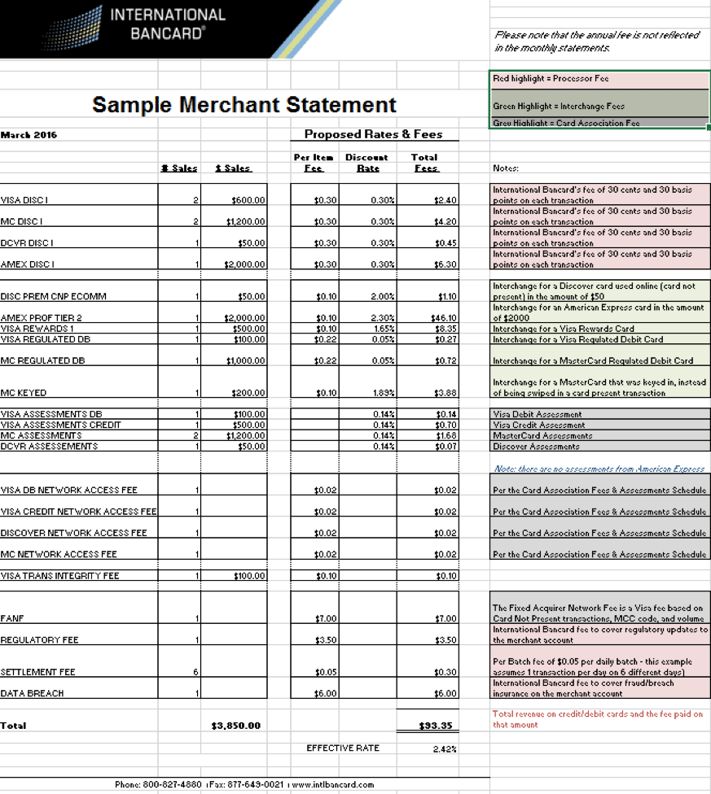 As a merchant, you will receive a monthly merchant statement. This statement, as shown above, helps you to reconcile your fees each month. This sample is based on accepting six transactions in one month – two Visa cards, two MasterCards, one Discover, and one American Express. This will help you understand where the fees are shown and what they mean. The fee types are color coordinated:
Red are fees from International Bancard, i.e. the "processing fees"

Green are the Interchange fees from the issuing banks
Grey are the assessment fees from the Card Associations
In this sample statement, your business accepted six transactions for a total of $3,850 in revenue. Thus, the total fees amounted to $80.30. (The Effective rate, total fees divided by total sales volume, is 2.09% in this scenario).
Credit card fees are not easy to understand, nor are they easy to reconcile because the type of payment cards that your cardholders present impact the cost of acceptance. It is extremely important to partner with a merchant services provider that you trust, so rest assured there are no hidden fees.