We all know that the holiday season is a busy time for businesses, but do you know the weight of each milestone during the holiday season?

Let's go over each holiday sales timeline and break down the season!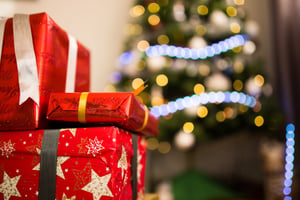 Holiday Shopping Season - In retail, the Holiday Shopping Season lasts from November 1 to December 31. To determine holiday sales, add up the total amount of sales conducted during this period. The holidays included during the Holiday Shopping Season include Thanksgiving, Hanukkah, Christmas, and Kwanzaa.
Thanksgiving - Turkey Day! While some stores are open for shopping on Thanksgiving Day, it is the least busy day of the opening holiday shopping weekend. In 2017, 29 million consumers went out shopping on Thanksgiving. However, more and more people are shopping online on Thanksgiving. Last year online purchases on Thanksgiving day were up 18.3%.
Black Friday - Black Friday is the Friday after Thanksgiving. It is the official kickoff to the Holiday Season. Black Friday is historically the biggest shopping day of the year, with retailers offering the greatest deals on their products that day. With the presence of earlier holiday sales and the ability to shop online, Black Friday sales are shifting. Sales made in-store on Thanksgiving and Black Friday fell 4% in 2017.

In 2017, Black Friday was all about digital sales. Shoppers in the U.S. spent a record $5 billion on Black Friday with a 16.9% increase in online sales from 2016.
Small Business Saturday - Small Business Saturday is the Saturday immediately following Thanksgiving. Small Business Saturday is an initiative created by American Express in 2010. The goal is to push consumers to their local independently-owned businesses to help stimulate their local economy.
In 2017, an estimated 108 million participated in Small Business Saturday, generating roughly $12 billion in reported spending.
Cyber Monday - Cyber Monday is the online version of Black Friday. Cyber Monday is becoming more and more popular with shoppers. In fact, in 2017, a record $6.59 billion in online sales were made on Cyber Monday. Cyber Monday is now more lucrative than Black Friday.
Christmas Eve - Watch out for those last minute sales! Christmas Eve is December 24th and is the day where most fraud attempts occur. Be sure to keep an eye out for Fraud with IB's helpful Fraud Prevention Tips.
That is a lot of revenue and sales being made in two months.

Make sure your business is ready for holiday sales! Contact one of International Bancard's Certified Payment Professionals to learn how you can increase your holiday sales.